PATCHES

LANDSCAPE SERVICE
We all want beautiful plants around our home and office. Thing is, pests love it. Mulch, flowering plants and over grown ground cover make perfect harborage for animals large and small. Often, if not kept up, this vegetation can even enter the structure where its expanding roots or branches can cause damage and let water and pest have entry. Inspecting structures for maintenance issues or treatment can be limited as well. Patches Landscape service offers solutions to keep nature at bay.
HEAVY VEGITATION REMOVAL AND PRUNING
Patches Pest Plus LLC establishes a dry, organic free zone around your structure, trimming back vines and over grown bushes to allow air flow around your structure. We can even move your ornamental bushes that have out grown their placement, allowing a full growth effect with less seasonal maintenance.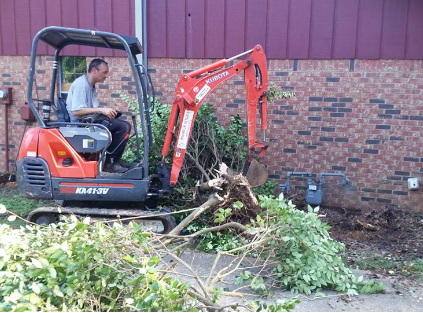 MULCH REMOVAL AND REPLACEMENT
Wood chip mulch and even pine straw are very beneficial to your vegetation, providing nutrients to the soil. The problems are that this organic debris provides feeding opportunities for pests and they need constant replacement as they break down season to season. Patches Pest Plus LLC will remove and replace your organic bed material with a variety of gorgeous (nonorganic) options to enhance the esthetics of your property, eliminating feeding and harborage opportunities for pests and protecting your structure from moisture and damage. These borders also protect treatment zones, establish consistency in soil moisture levels and allow for the best treatment methods for an IPM program.